Techstars Mobility Announcing New Office & Corporate Partners for 2018
Today, Techstars Mobility is announcing its new office in downtown Detroit along with 9 corporate partners supporting the upcoming 4th program.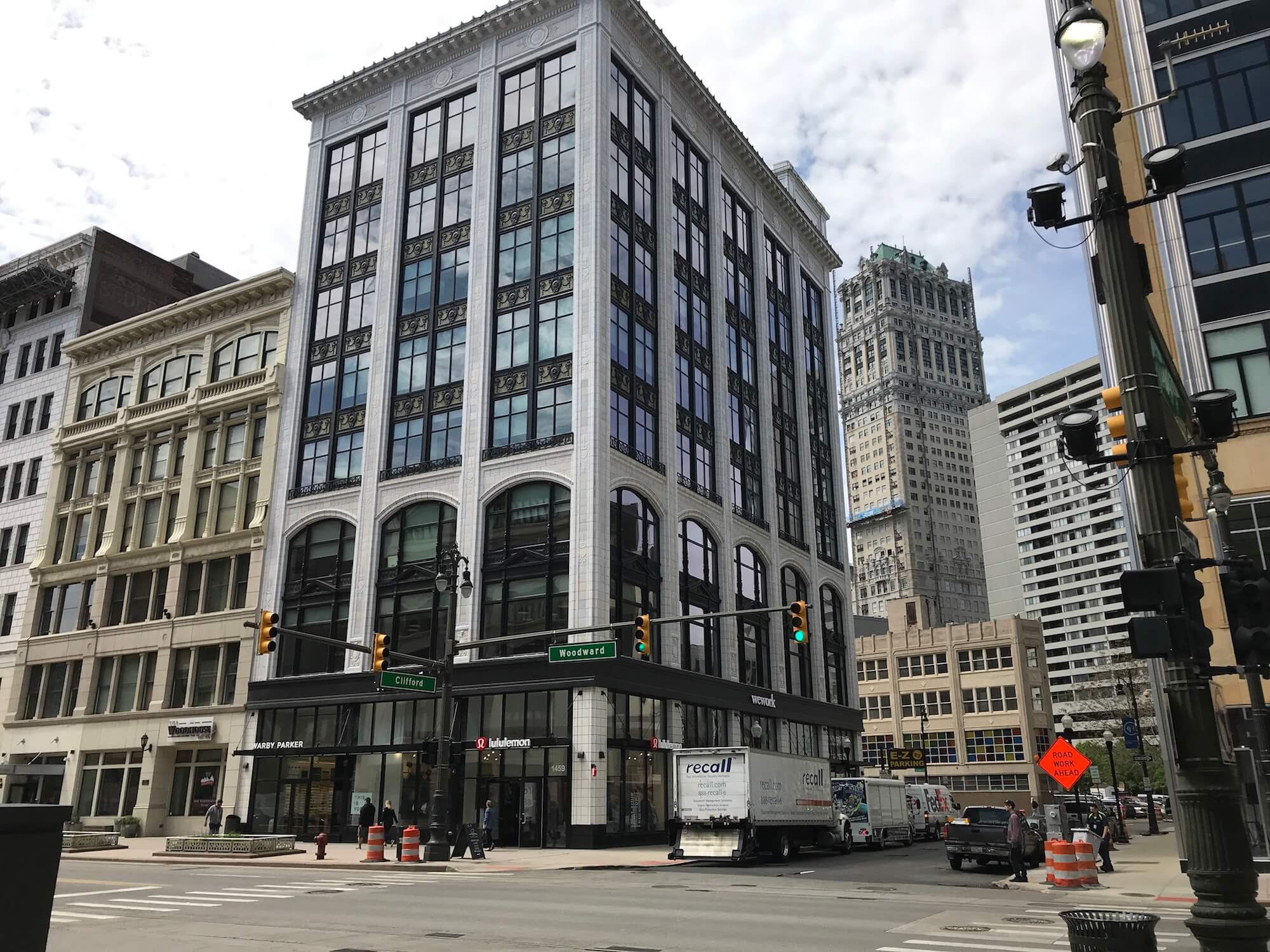 Three years ago, Techstars Mobility opened its office in downtown Detroit at Ford Field. We began our mission investing and mentoring entrepreneurs from around the world building the future of mobility.
Since then, we've invested in 33 startups from 6 different countries, who have raised $45 million valued at over $200 million. This summer, we'll announce 11 additional startups that we've invested in that will be part of our fourth class. We've built a burgeoning mobility community, with 359 active mentors spanning 143 organizations. We've facilitated 7,500 meetings between founders, investors, corporations, and government organizations. We've hosted over 3000 attendees across our Mobility Demo Day, held annually in the fall. Two of our investments have been acquired as well—Bosch acquiring SPLT and Hagerty acquiring Classics&Exoctics.
Techstars Mobility Moves to WeWork and Announces 9 Corporate Partners for 2018
Today, I'm excited to announce we're moving to the 7th floor of WeWork Merchant's Row, centrally located in downtown Detroit. We will continue to run our program out of this space, foster the growing mobility community, and plug into the increasing density of companies along the Woodward corridor. In partnership with WeWork and PlanetM, we're designing a community and space where the future of mobility will converge. We've also teamed up with Oblong Industries to offer their visual collaboration technology, Mezzanine, in two of our new meeting rooms.
In addition to the new office, we're also welcoming back several returning corporate partners and a few new ones for our fourth program. Techstars Mobility's corporate partners work closely mentoring and supporting the founders going through our Mobility program.
Thank you to our 2018-2019 Techstars Mobility corporate partners:
Bosch
CSAA Insurance Group, an AAA insurer
Ford Motor Company
Honda
Nationwide
PlanetM
Siemens
USAA
Volvo Car Group
And if you're looking for ways to get involved in Detroit, visit the startup community website #StartupDetroit and join the Slack room for the latest events, job listings and conversations happening in the city right now.
Corporate Partners Share Why they Partnered with Techstars Mobility
Here's a quick look at why our outstanding mobility partners chose to work with Techstars Mobility to drive global innovation in the future of mobility.
"We look at innovation as a necessity to serve the evolving needs of AAA members and society at large. Partnering with Techstars Mobility offers us the ability to understand better how mobility is shifting and support the entrepreneurs that are driving disruptive change. Ultimately, our work is centered around being there for people when they need us, and there is no better way to serve them than to understand what they will need in the future."
— Sanjiv Parikh, Managing Partner of Venture Capital, CSAA Insurance Group
"Identifying meaningful ways to engage startup ecosystems across the world is a growing priority for Nationwide, as it ensures we're keeping up with the pace of innovation within and beyond our business, directly translating to improved services for our members. We've been following Techstars Mobility closely, and it's become clear that their graduating companies are leading the future of mobility. We want to be on the ground floor with these startups and couldn't imagine a better place to be than in Detroit, with Techstars."
— Erik Ross, Associate Vice President, Nationwide's venture capital arm
"At next47, we not only invest in external startups, but we also help Siemens, our parent company, identify and nurture the best entrepreneur teams from within, and help them carve out their ideas into successful startups. We chose Techstars to partner with in this endeavor for two reasons: 1. Their proven expertise in selecting the best early-stage teams, and 2. The access they provide to expert advice, mentorship and investors is invaluable to the long-term success of the start-up."
— Susana Quintana-Plaza, Partner, next47
"PlanetM is excited to enter into a partnership with Techstars Mobility and include their accelerator companies in the PlanetM Landing Zone, located at WeWork Merchants Row in downtown Detroit. This new partnership will allow the PlanetM team and Techstars the opportunity to work collaboratively on programming, events, recruiting and matchmaking efforts as well as provide increased access to Techstars worldwide network. The presence of Techstars Mobility in the PlanetM Landing Zone will be a valuable resource for current Landing Zone member companies as we work together to strengthen Michigan's growing global mobility startup community."
— Trevor Pawl, Group Vice President, PlanetM
"At USAA, we're always looking for ways to cultivate our culture of innovation while searching for ways to improve the financial well-being of our members whether through added services, products or advice. Keeping a pulse on the latest innovations coming from startups helps our teams evolve our offerings while enabling us to give back to the entrepreneurial community that helped found our business nearly 100 years ago. We chose to partner with Techstars Mobility because the companies coming out of each program are some of the most promising innovations we've seen on the market."
— Randy Termeer, Senior Vice President, USAA
"In addition to our internal product development efforts, Volvo Car Group is partnering with leading startup entrepreneurs both in the US and globally to co-create the future of mobility and transportation. Techstars is a leading platform to engage with innovative startups, and our partnership enhances our ability to guide, mentor and nurture companies that can add value to Volvo's future offering. Some of the most important things for the survival of a young startup are establishing product-market fit and having the necessary funding runway to achieve it. By engaging with Volvo Cars, promising startups can gain access to our leading global R&D network to validate their product as well as our newly launched investment fund for strategic capital."
— Zaki Fasihuddin, CEO, Volvo Car Technology Fund AB
"We're thrilled to welcome Techstars Mobility and the 2018 accelerator companies to the WeWork Detroit community. When we launched the Planet M Landing Zone last year, we envisioned WeWork to as the home of the next generation of mobility companies in Michigan. With the addition of Techstars, that vision is one step closer to becoming a reality."
— Megan Dodds, Midwest General Manager, WeWork
"We're delighted to support Techstars with next-gen workplace technology as they develop next-gen mobility talent working to transform the industry. Mezzanine is our flagship technology for meeting spaces, and executives from NIO automotive to NASA aeronautics are using it to move forward on projects that demand multiple streams of data and visual information from multiple stakeholders in multiple locations."
— Mike Brown, Chief Revenue Officer, Oblong Industries