Top 13 Strategies for Startups to Work with the Automotive Mobility Industry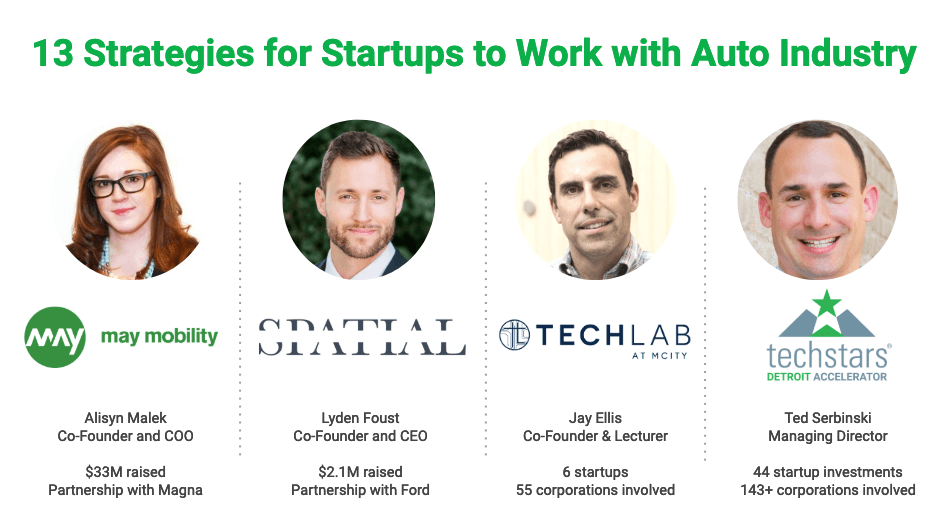 Watch the video discussion and learn about the top 13 strategies for startups to work with the automotive mobility industry. Compiled by founders, investors, and mentors with extensive startup and automotive mobility experience.
The #1 question I get asked by startups is "How can I work with the automotive mobility industry?"
It's a hard question to answer and depends on the startup, the specific part of the industry, and the desired outcome.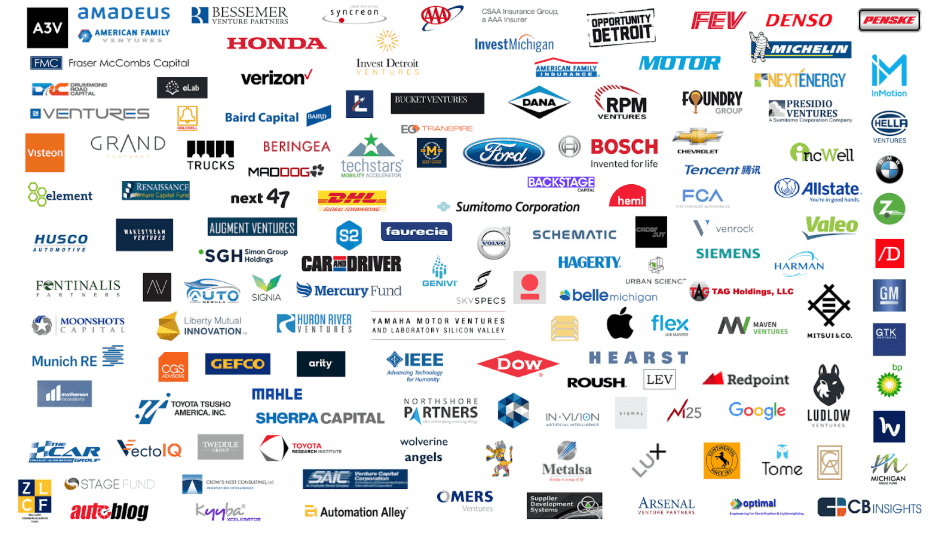 I've wanted to blog on this topic for a while and write an answer I could refer startups to. Just my own perspective might be too limiting on this complex subject. So I decided to turn to a few friends and colleagues to help me frame a response that could be shared widely. This is the assembled crew of experts sharing their knowledge:
Watch the Live Discussion
Together, we recorded a webinar of us talking about these strategies in detail. We've also posted below a list of the 13 strategies for startups and some of the discussion points from the webinar. There are even more nuggets of wisdom in the webinar so give it a watch to learn even more.
Note: when we recorded this webinar, we only had 12 strategies. The concept of "why" came out of a question asked and we realized this was important enough to be its own strategy which we've added below.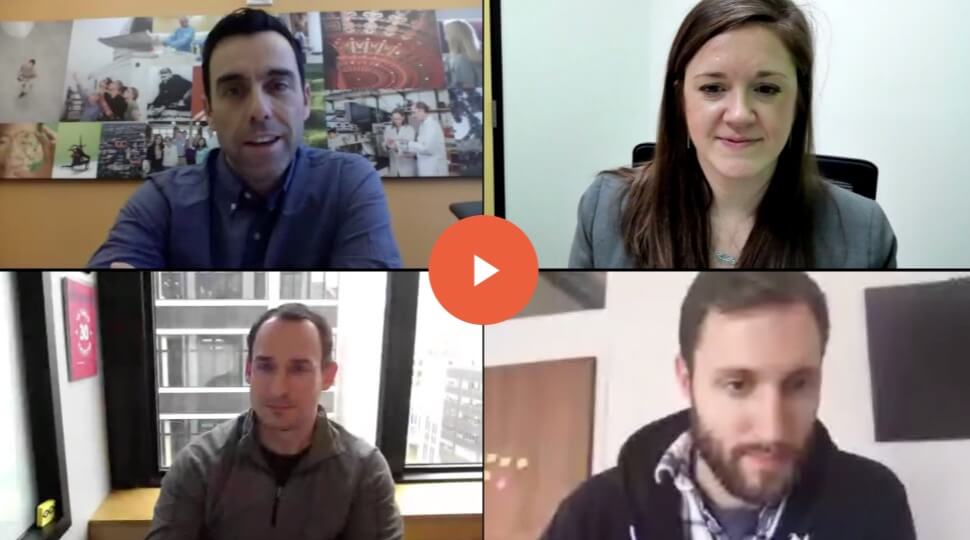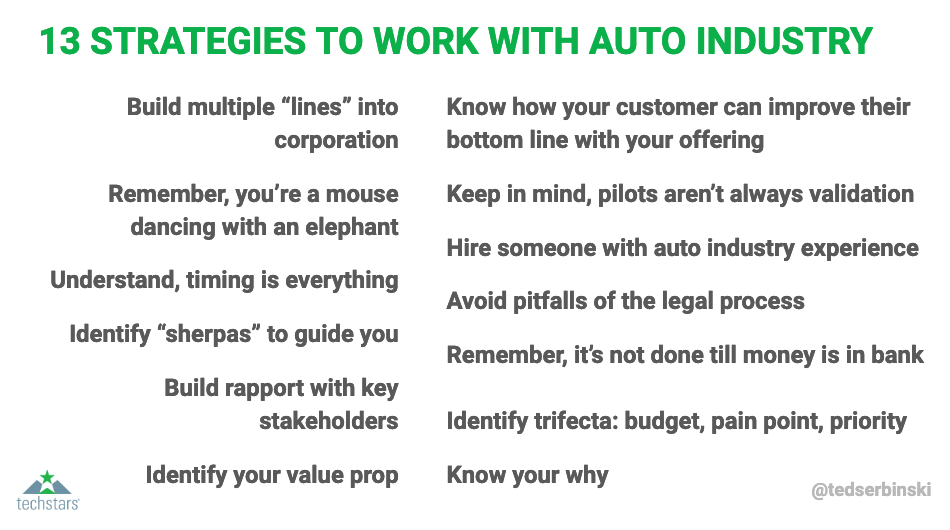 Top 13 Strategies for Startups to work with Automotive Industry
1. Build multiple "lines" into corporation: champion, exec sponsor, and supporters
In fishing, when you have more lines in the water, you can catch more fish
The same is true with corporations, building multiple "lines" (e.g., relationships) into the organization
At a minimum, a champion that will shepherd your deal through the org, an executive sponsor that can sign off on budget and make this a priority, and other supporters that can +1 the interaction
The larger the org, the more relationships you need across business units
2. Remember, you're a mouse dancing with an elephant
Your startup is small and nimble, it's a huge advantage
But the corporation is large and slow and when it moves, it can crush you — whether on purpose or accidentally
Understand your customer's roadmap so that you're able to understand how it compares to your company's roadmap
Do your homework and make sure that you understand where you can negotiate the process ahead of time (terms, milestone deliverables for payment, project coordination) vs where you might have to adapt to their business
3. Understand, timing is everything
Management and strategy cycles change every 2-3 years, and in a race towards electrification, autonomy, and shift to software services, these cycles can change every 12-18 months
Make sure you understand their process for planning and technology roadmap development.  You don't want to find out they are ready to launch a new technology and realize that you missed the stage for qualification
Time is on their side, not yours — eventually, your startup will run out of cash chasing the wrong corporation
Read the book Never Split the Difference to learn to negotiate better (note: affiliate link)
4. Identify "sherpas" (aka mentors and investors) that can guide you early on
Augment your own knowledge and fill gaps by learning from those that have already worked with corporations or that specific one you're targeting
Techstars Detroit is a mentorship-driven accelerate who's main value prop is just that. The program is geared to accelerate a startups understanding of the industry and corporations facilitating 200+ meetings with industry insiders and investors, speeding up 2-3 years of biz dev into 2-3 months
Lyden, from Spatial (a 2016 Techstars Mobility alum), goes on, "without our mentor, Jake Sigal (who sold his previous startup to Ford and has lots of experience working with big corporations), we would have not landed our first deal"
5. Build rapport with key stakeholders
Network, network, network
Spatial developed a super deep relationship with Ford and share insights:
Proximity is important. If you don't live near your customers, you need to fly there often. "Happenstance" and face to face meetings keeps your company top of mind and improves trust tremendously
The quantity of meetings is important. There is a good chance there are many direct and indirect decision makers. The more meetings the better as long as you have the point #1 trifecta and are turning the corner
Thought partnership is important. One very helpful thing with Spatial is we became very much thought partners with our Ford clients. We'd often talk about industry shifts, share ideas, etc. For us, this informed our product and informed some of the strategies Ford used
Keeping in contact with a breadth of people in the company is important. Why? Because they eventually get promoted. Even if they aren't a decision maker now, they are a decision maker somewhere in the future
Start small, push for visibility. We started with a small project but were strategic about the type of visibility we could get within the company. This expanded the use of Spatial across three departments.
Go where they go - study up on the people within the business that you want to meet and make sure you're showing up at the same industry events.   CES is great to build awareness, but you don't always get the full attention of all of the decision makers so targeting additional more sector-specific conferences to help cement relationships is a good idea.
6. Identify and define your value prop
Always start with small projects to find a fit as you refine your value prop
Understand how the corporation is incentivized to work with you. Big organizations can have multiple business units with different customer profiles and value props
7. Know how your customer can improve their bottom line with your offering
Can your offering increase revenue or save costs? Either one can affect the bottom line in a positive way.
The value equation that the customer is running in their head — if I buy this thing will I make more money on cars? For Spatial, their first project with Ford did not ultimately move forward into production with Ford because it was not obvious how furthering the tech would help them sell more cars. They are glad they did it, but ultimately it could have saved time and $$$ on both sides if they were honest with themselves about this earlier.
Get out and learn, can you bring learnings earlier — maybe saving money or generating revenue in the long run but need small tests to validate thinking
8. Keep in mind, pilots aren't always the validation you need
Pilots can heat up or cool down depending on the impact on the business (e.g., see #7, if you can drive improvements to bottom line, it'll add heat fast)
Don't focus on the wrong metric as a startup, pilots don't always mean validation, it's a way to learn usually more than a signal of a deep relationship
One auto OEM we dug into ran 52 pilots in one year but only ended up working with 1 startup on a customer basis
The auto industry has "cooled" off doing pilots since peaking with pilots in 2017. It turns out the majority of those pilots weren't really tied to a business model improvement. Investors noticed too, demanding more demonstration the startup has a business model versus just a technology
Do your homework and make sure you know if the group doing the pilot is the group that would bring your technology into production, if not, then you need to decide what other value that pilot brings if it won't bring long term business. Make sure to understand how the group you're working with is related to groups that are responsible for production. Get the introduction to the production group and keep them updated on the work you're doing with the pre-production group.
9. Hire someone with deep automotive industry experience
If you are selling into the auto industry, having someone with credibility that knows the lingo will go a long way for early acceptance
This person can help your startup navigate more quickly and adapt your internal sales materials to resonate with industry experts
Remember that expertise does not replace learning. Someone with deep experience may be able to learn and adapt faster but it's rarely just an experience issue but a combination
For startups, this is another great reason to consider Techstars Detroit: if you don't have that person yet, Techstars Detroit can give you an education in the lingo and business processes as well as get you to a place where you are credible through the automotive industry.
10. Avoid pitfalls of the legal process that can derail the relationship
NDAs can offer a veil of protection but proceed with caution. Just because an NDA is signed or even not signed, doesn't mean your technology or unique insight can't be duplicated by the corporation
Sometimes you'll be negotiating with their lawyers, who just put boilerplate language in every contract - don't take it too personally when the contract basically says if you work with us we own you. Definitely push back on some of those items. Your champion wants you to land the deal.
Think what are we trying to accomplish and what we are bringing to the table. Focus then on the jointly owned IP.
Understanding how the industry works can help you set up a framework (see #9 above)
Pick and choose what you are willing to relent on, but be conscious of what the trade-off now could mean in 12 months
Make sure you run the contract by another supplier who has landed deals in the past, you want your deal to scale across corporate customers, not be custom each time (though in the very beginning this may be the case as you refine your value prop and process)
Make sure you have a great law firm that understands startups, large corporations, and bonus, the automotive industry nuances (yes those firms exist, usually multiple partners within that firm)
11. Remember, it is not done till the money is in the bank
Anything can happen till money hits the bank
One time, Ted was about to sign a major automotive OEM and needed one more signature to make official so money could be wired. That person was the CIO and was let go that day the signature was needed. The deal was lost and never recovered from.
If your product offering is tied to production, most money won't hit the bank till production starts
12. Identify the trifecta: budget, pain point, priority
The most important thing. The rest becomes easy when you have all 3. If you only have 1 or 2 or part of 3, it's a bigger uphill battle and you have to lean in more
While at PolySync we found that our best partner/customer was one that we knew their pain point and roadmap in most detail. It felt as if we moved from being a supplier to, nearly, part of their internal organization. We showed that we understood a particular problem in great detail, we helped them understand additional problems they were going to face down the road, we gave them supporting arguments for this project budget to get approved, and laid the groundwork for subsequent projects that matched roadmaps.
Is this a nice to have or a must have? As a startup, you need to quickly understand in detail a customer's pain point and how urgently, or not, they need to solve that pain. If you find that a pain point isn't that painful or it isn't urgent move on. Those are the situations where the budget is likely earmarked or more easily negotiated.
13. Know your why
Why do you want to work with this corporation? What good will come of the relationship?
You can't hit a target you're not aiming for. You can't build a great relationship unless you know in the first place why you want it (hint, it's probably not validation, see #8 above)
For more, read the book Start with Why (note: affiliate link)
Keep In Mind
YMMV — Your mileage may vary. We've tried to summarize key lessons that work most of the time in most situations. There is always nuance to everything but in our experience, these rules seem to play out year after year, corporation after corporation, startup after startup.
If we've missed something, leave a comment below.
If this was helpful, leave a comment too, this helps me figure out what future content to blog about as well.
Are you a startup looking to develop deep relationships across the automotive industry? Apply to be part of the 2019 Techstars Detroit class and receive $120k investment and access to 143+ leading automotive and transportation organizations.

Fill out an application by clicking here by Apr 7, 2019.

If you have questions about the program and how it might help you, request offers with the Techstars Detroit team here.
Ted Serbinski Newsletter
Join the newsletter to receive the latest updates in your inbox.