Meet the 65 Mobility Startups Coming to the 2019 North American International Auto Show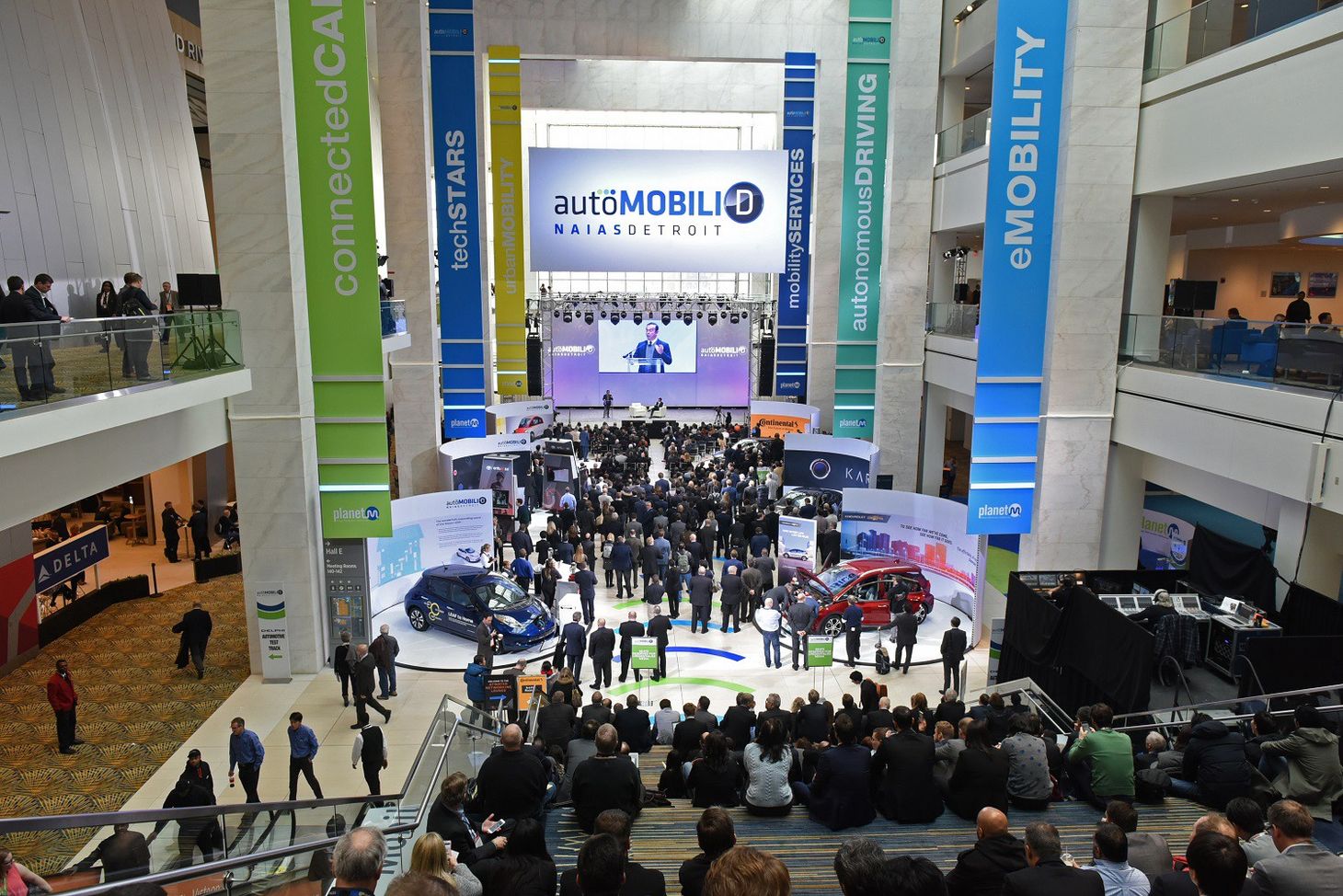 Below is list of the 65 mobility startups coming from around the world to Detroit for the 2019 International Auto Show. 77% of these startups are first-time exhibitors showcasing their technologies to the automotive industry.
Today I'm excited to introduce the 65 mobility startups coming from around the world to the 2019 the North American International Auto Show (aka the Detroit Auto Show). These startups will be exhibiting at AutoMobili-D, the technology-focused expo of the Detroit Auto Show that is running in its 3rd year from Monday, Jan. 14 through Thursday, Jan. 17. No other event in North America provides an international platform for this vast array of companies, organizations and mobility thought leaders under one roof.
I continue to be blown away by the growth of the mobility startup area at AutoMobili-D. Since its inception 3 years ago, the startup area has grown by 59%. The founders of these startups understand that any key decisions in automotive and supplier strategy eventually go through Detroit. With startups coming from all around the world to Detroit, it's clear that Detroit's role in the future of mobility is as strong as ever.
For 2019, a few stats on the startup area at AutoMobili-D:
65 mobility startups, a 14% increase over 2018, hailing from 10 countries around the world
The mobility startups' exhibits take up 27% of the floor space at AutoMobili-D and represent 45% of all exhibitors at AutoMobili-D
86% of the startups have existing relationships with automotive OEMs and suppliers
77% of the startups are first-time exhibitors
Collectively they employ over 872 individuals worldwide
These mobility startups are building a wide range of technologies and businesses that span:
Autonomous
Connected Car
Electrification
Fleet Management
Hardware / Sensors
Logistics
Manufacturing
Mapping / Journey Planning / Multi-Modal
Personal Mobility / Last Mile Vehicles
Security
Services / On Demand / Ride Sharing
Smarty City and Infrastructure
For the third year in a row, Techstars Mobility has partnered with the North American International Auto Show to bring mobility startups from around the world to Detroit. These startups will be showcasing their innovative mobility technologies as part of AutoMobili-D, a dedicated mobility technology expo. This partnership is part of Techstars Mobility's ongoing mission to connect the automotive mobility industry to startups by facilitating connections and building partnerships.
The 65 Mobility Startups Exhibiting at 2019 Detroit Auto Show
14bis Supply Tracking — Houston, TX, United States — Proprietary middleware provides systems interoperability & full asset traceability with real-time awareness for supply chains of trust.  We track physical or digital assets providing on-demand auditability.
Advanced Connected Vehicle Solutions — Farmington Hills, MI, United States —  ACVS provides software solutions for securely connecting vehicles to cloud services.  Our modular telematics client software supports needs such as remote operations, FOTA, and diagnostics.  The client is code generated from our IoT Workbench tool providing complete API documentation and simulation.
Aimotive — Budapest, Hungary — Aimotive provides artificial intelligence-based software solutions for self-driving cars to global car makers and Tier 1s. Our product suite includes artificial intelligence-based perception algorithms, state-of-the-art simulation and Neural Network acceleration technology.
Airspace Experience Technologies — Detroit, United States — We enable private air mobility for the mass traveling public.
Alchemy — Kitchener, ON, Canada — We are a nanotechnology startup pioneering two nanocoatings: a passive anti-frost coating and an abrasion resistant coating. Our coatings enable multi-climate reliability for AVs by providing impact/scratch resistance, frost prevention, deicing to combat snow/freezing rain, and water/dirt shedding.
Alpha Drive — Brooklyn, NY, United States — Validation of Autonomous Vehicle AI
Alto — Dallas, TX, United States — Alto offers on-demand rides that are safe, consistent, and tailored to our members' preferences. We use a dedicated fleet of new cars, employee drivers, and elegant apps and in-car technology to deliver exceptional rides, every time.
Arbe Robotics — Tel Aviv, Israel — The world's first company to demonstrate ultra-high-resolution 4D imaging radar with post processing and SLAM
Autobon AI — Chicago, IL, United States — Autobon is providing trucking fleets with the first aftermarket autopilot system that enables existing semi-trucks to deliver freight autonomously on U.S. highways. We are deploying the system in a way that builds trust with operators, while increasing job safety and efficiency.
Axle Travel — NYC, United States — We help businesses create and manage their own ancillary mobility services.
Bedestrian — Ann Arbor, MI, United States — We develop autonomous lead robots and modular trailers for driverless delivery (indoor/outdoor) of food and prescriptions drugs, as well as hauling of goods.
Bollinger Motors — Ferndale, MI, United States — Electric Vehicle OEM Manufacturer
Busie — Kingston, NY, United States — Busie simplifies online booking and logistics for operators and organizers.
C2A Security — Jerusalem, Israel — C2A provides protection from automotive life-threatening cyber attacks.
CARMERA — Brooklyn, NY, United States — CARMERA is building the world's most robust street intelligence platform, specializing in "living" high definition maps for autonomous vehicles.
CellularEMT — Detroit MI, United States — CellularEMT is an on demand platform that connects certified repair contractors to consumers who need their smart devices repaired.
Comet.ml — New York, NY, United States — Comet is doing for ML what GitHub did for code. We allow autonomous vehicles and perception teams to automatically track their datasets, code changes, experimentation history and production models creating efficiency, transparency, and reproducibility.
DeepHow — Detroit, MI, United States — The first AI solution for skilled trades know-how capturing and training.
Derq — Dubai, United Arab Emirates — Derq is an MIT-spinoff and Techstars mobility alum with a mission to eliminate crashes. Our AI-based ITS and V2X software applications predict the behaviors and intentions of road users to warn cars with enough time to avoid crashes. We are live in Dubai and Detroit
Detroit Flying Cars — Livonia and Ypsilanti, Michigan, United States — At Detroit Flying Cars, we are developing a uniquely more flexible form of transportation. Fly when you what to, drive when you want to. A distance airplane with VTOL option, and roadworthy EV with 400 miles range – the ultimate freedom machine.
Drive Spotter — Omaha, NE, United States — Investors ask every CEO one key question – every single answer hinges on their team – we help CEOs incentivize their teams, which is increasing crucial to effective supply chains.
Drive Time Metrics — Jamestown, Rhode Island, United States — Media analytics and monetization of connected car data
Driver Technologies Inc. — Brooklyn, NY, United States — Driver delivers a dashcam with cloud storage, augmented reality navigation, AI-powered forward collision warnings and attention-assist through a free mobile app. At the same time, Driver gathers valuable data for the insurance, advertising, mapping and autonomous car software industries.
Enertia Microsystems Inc. — Ann Arbor, MI, United States — We are commercializing small, low-cost, and ultra-high-performance inertial sensors for dead-reckoning for Level-4 or Level-5 autonomous vehicles.
FairFare — New York, NY, United States — FairFare is a direct booking, ride hail marketplace app. Our algorithm tailors a client oriented response. It's a marketplace that cross matches tailored transportation with lifestyle spending habits. Thereby becoming a direct asset to businesses, government and consumers.
Fantasmo — Los Angeles, CA, United States — Fantasmo is building a decentralized platform for 3D spatial maps and camera-based positioning. Our end-to-end solution enables the creation, access, management, and monetization of 3D maps which is critical for mobility, autonomous robotics, augmented reality, and many other emerging industries.
FenSens — San Francisco, United States — FenSens produces smart car accessories and services for the full connected vehicle experience.
Fleetonomy — Tel Aviv, Israel — Fleetonomy offers artificial intelligence-based solutions to enable fleet owners, OEMs and smart mobility service providers to maximize their fleets by enhancing efficiency, generating more insights from their data, and creating new revenue streams by launching new smart mobility services.
Gridwise — Pittsburgh, PA, United States — Gridwise provides a mobile platform that increases rideshare drivers earnings 39% by helping the find more rides and track their performance across each service they drive for.
HAAS Alert — Chicago, IL, United States — Vital safety information streamed to drivers, connected and autonomous cars via in-vehicle systems and smartphone apps when emergency vehicles are approaching and on-scene. Drivers, emergency crews and roadway operators use the C-V2X enabled solutions to avoid collisions and reduce traffic delays.
Hanseatische Fahrzeug Manufaktur GmbH — Holm, Schleswig-Holstein , Germany — Hanseatische Fahrzeug Manufaktur GmbH (HFM) specializes in the development of highly complex mechatronics systems for electric and autonomous vehicles.
HiHo Mobility — Waterloo, Ontario, Canada — Shared work fleets with on-demand logistics (tools, supplies and assets). Already in-use on University campuses. Greatly reduce costs, vehicles and go green. Human-driven for now, self-driving soon.
Humanising Autonomy — London, United Kingdom — Humanising Autonomy improves safety and efficiency of autonomous mobility systems through better understanding of human behaviour in cities.
Integral — Detroit, MI, United States — Integral brings a silicon valley mindset of continuous innovation to mobility. Our Detroit-based product development consultancy brings expertise in lean product, human centered UX, and cloud engineering to collaborate with our customers on solving problems in CV, AV, EV, and shared mobility.
IntelliTire — San Mateo, CA, United States — Making tires smarter
INVENTEV LLC — Detroit, MI, United States — Startup based in Detroit to provide vehicle mobility services, advisory services and commercial vehicle electrification
IXR MOBILITY — Detroit, MI, United States — Provide non emergency transportation and shuttle services with an emphasis on Autonomous Automated Shuttles.
Jrop — Toronto, ON, Canada — Jrop has developed the most efficient way to generate machine-readable property maps, to optimize first and last meter operations for driverless cars.
Kepler51 Analytics, PBC — Austin, TX, United States — Kepler51 is a Big Data analytics solutions provider with a core focus on predictive and real-time road weather information for automotive safety and mobility.  We are pioneering the next step in ADAS applications for road safety. We are a Public Benefit Corporation for the Vision Zero movement.
LaneSpotter — Pittsburgh, PA, United States — Mapping and navigation created for cyclists by cyclists, with a focus on safety. Think Waze for bikes!
Metamoto, Inc — Redwood City, CA, United States — Metamoto's Simulation as a Service platform provides orders of magnitude more testing and training hours, miles, scenarios and data for testing, training, validating and debugging autonomous system software.
Mobiag — Lisbon, Portugal — Mobiag is a solution provider in the shared and electric mobility space. We build tools to empower sharing organizations and bring them together in a global independent network. We are based in Lisbon and currently serve over 25 clients in 4 continents, with over 6k cars managed on our platform.
Numeero — Monterrey, Mexico, Mexico — Automotive RFQ Collaboration Tool
ParkMobile — Atlanta, United States — We enable consumers to reserve, book and pay for parking through our App - ParkMobile and through our APIs for in-car head-unit integration.
Parkofon — Alexandria, VA, United States — Parkofon delivers automated on-street and off-street parking by using its high-accuracy geolocation device. We pilot with Avis and launch in Brooklyn, NY next month.
Pitstop — Toronto, Canada — Automotive Prognostics Platform (PaaS)
Powerlink Systems — Detroit, MI, (PlanetM's Landing Zone), United States — Powerlink Systems is an EV charging station distributor and installer with office locations in Rochester and Detroit, MI (Planet M's Landing Zone). We provide turnkey solutions to businesses, cities and residents looking to install EV charging stations.
Prestio — Kansas City, MO, United States — Prestio is an end-to-end Dealership eCommerce platform that enables dealers to sell cars fully online via our eCommerce Operating System that has three components: AI Marketing & Sales, Consumer portal, and Dealer OS.
Priva — Chicago, IL, United States — Priva is a regional transportation alternative to commuter flights - taking customers door-to-door in a private, connected, mobile office.
Reality AI — New York, NY, United States — Artificial Intelligence for developing Automotive products using sensors.  Runs in real-time, in firmware, on inexpensive commodity hardware. Reality AI holds 12 patents and 6 patents-pending, all in the field of machine learning as applied to sensors and signals.
Safecar — Detroit, MI, United States — Safecar is an Emergency-as-a-Service company that automatically connects people with 911 assistance without talking to dispatch.
Sawatch Labs — Denver, CO, United States — Sawatch Labs provides algorithmic decision making to vehicle fleet stakeholders around electrification, infrastructure, fleet right sizing and more.
SEEVA Technologies — Seattle, WA, United States — SEEVA Technologies creates safety and perception enablement systems to help vehicles see better in the ADAS/AV world.
Seoul Robotics — Seoul, South Korea, Korea South — Seoul Robotics specializes in real-time 3D data perception software that enables intelligent and safer mobility technology. It helps companies to fully utilize their 3D sensors at a fraction of development cost and time, without sacrificing the performance. Democratize Lidar software technology!
SICdrone — Boston, United States — SICdrone is a veteran owned unmanned aircraft company founded by aerospace engineers featuring aircraft effective in the small unmanned (sUAS), urban transportation (UAS) and satellite markets.
Sway Mobility Inc. — Cleveland, OH, United States — The Sway Mobility carshare platform combines operations, insurance, and technology to allow municipalities, neighborhood groups, transit authorities, and stakeholders to start or expand local carshare programs in small to mid-market cities.
Tesloop — Los Angele, United States — Connected Car Network for Data Driven Services and Car Sharing. Toposens — Munich, Bavaria, Germany — Toposens developed the world's first 3D ultrasound sensor, a robust and affordable 3D sensor enabling close-range object detection for autonomous driving cars or mobile robots.
Vartega — Golden, CO, United States — Vartega creates low-cost recycled carbon fiber to make cars and trucks lighter for fuel economy improvements and emissions reductions.
Voxel51 — Ann Arbor, MI, United States — Find the signal in the noise of your video data using our automotive grade computer vision platform.
WaveSense — Somerville, MA, United States — WaveSense is accelerating the arrival of self-driving vehicles by using subterranean maps created with ground penetrating radar. Vehicles with WaveSense can navigate in common but challenging conditions such as snow, rain fog, poor lane markings, and areas with sparse landmarks.
Weather Telematics Inc. — Toronto, Canada — Weather Telematics Inc. provides the essential data to enable autonomous vehicles to operate safely in poor weather conditions.
Wise Systems — Cambridge, MA, United States — Wise Systems is an autonomous Dispatch & Routing solution that empowers operations teams and drivers to improve fleet efficiency and customer service, seamlessly adapting to the everyday challenges they encounter.
Xapix — San Francisco, CA, United States — Xapix is building an orchestration platform for digital mobility services, providing vehicle manufacturers, suppliers, and service providers with ultimate flexibility, speed, and security around data interoperability. This allows mobility companies to scale services faster and more secure than ever.
Xtelligent — Los Angeles, United States — Intelligent traffic signal integration using V2I/X2I connectivity and edge computing
Ted Serbinski Newsletter
Join the newsletter to receive the latest updates in your inbox.